>
>
>
Remote Control Pergola 3*3 6*6 Multi-Function Restaurant Bioclimatic Louvre Awning Outdoor Gazebo Patio Pergola
Remote Control Pergola 3*3 6*6 Multi-Function Restaurant Bioclimatic Louvre Awning Outdoor Gazebo Patio Pergola
Brand :Xihui
Product origin :Foshan
Delivery time :7-15天
Supply capacity :2000
"Features
1.A crafted upgrade of the traditional gazebo, the best choice for both commercial and residential use
2.Composed of aluminum alloy frame, rust, and corrosion resistant, easy to clean. The water gutter design and special tilted structure ensure rainwater flows out of the edges of the frame and poles.
3.A simple, two-panel louver system allows you to control the sun/shade exposure manually. Tilt open to an angle of 55° and tilt shut to 0. Offers optimal shade from harsh sun rays.
4.Slightly close louvers when it's light rain. Keeping louvers open in case of heavy snow or strong wind.
5.Assembly instructions have been standardized and simplified. No special rivets, additional materials, or welds are required for assembly."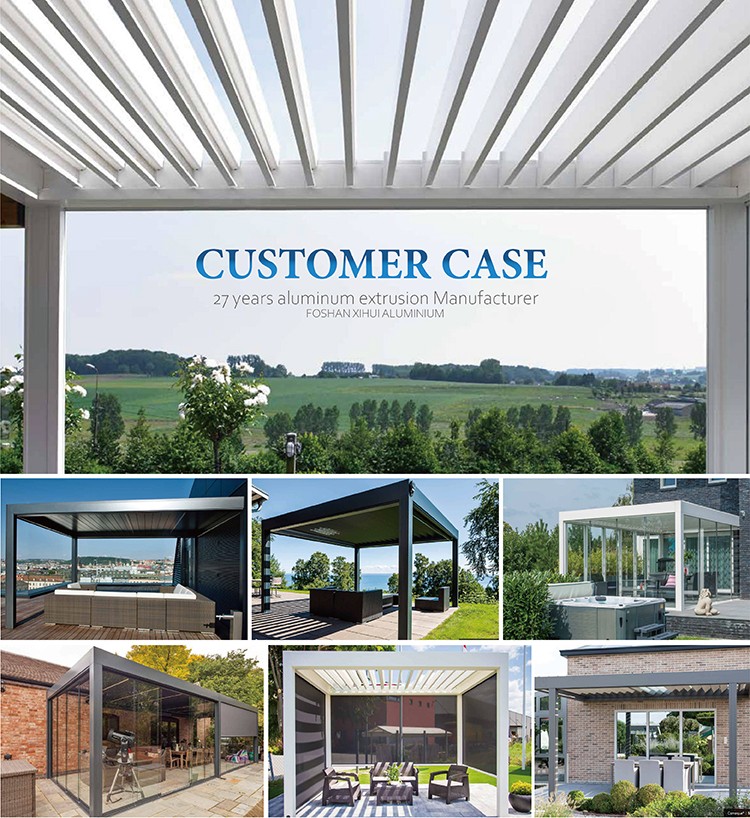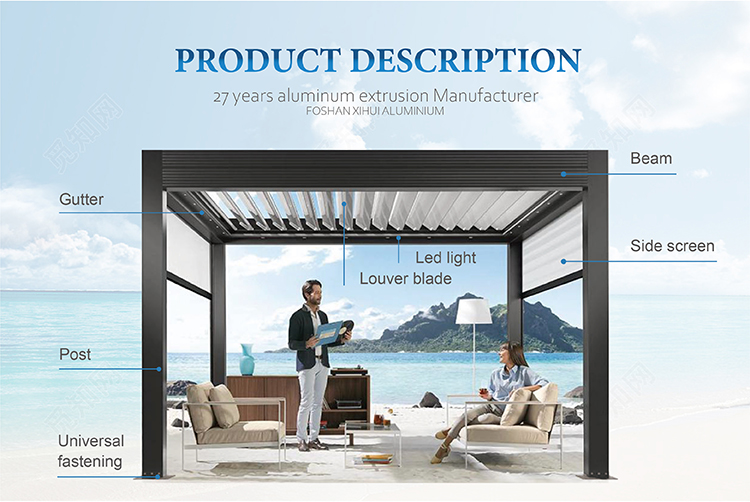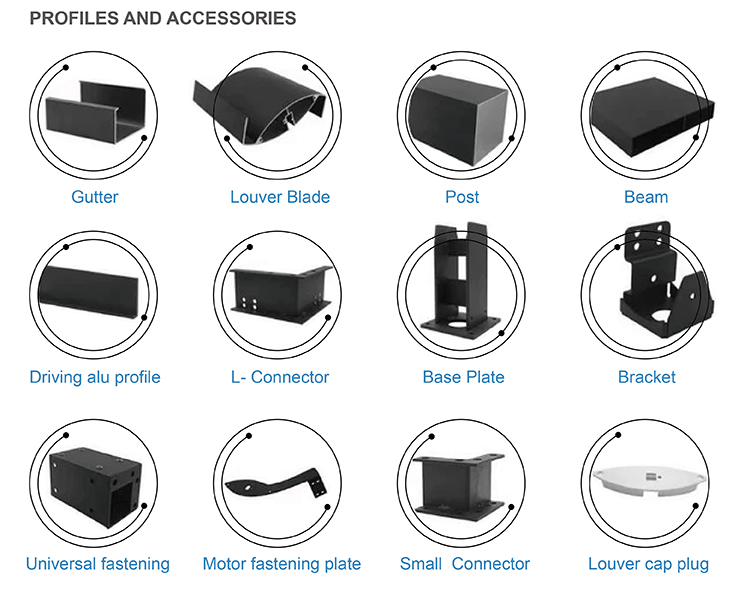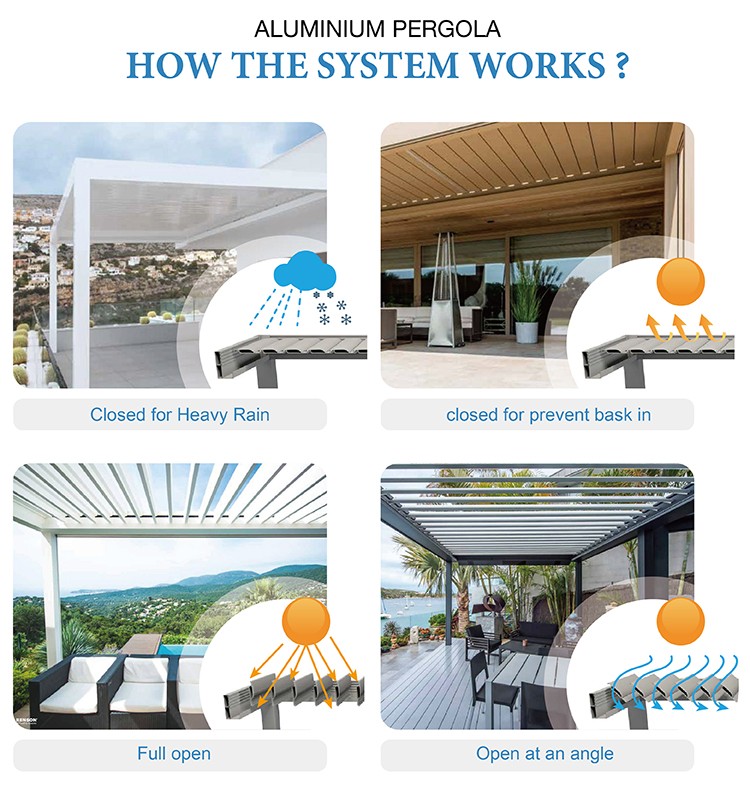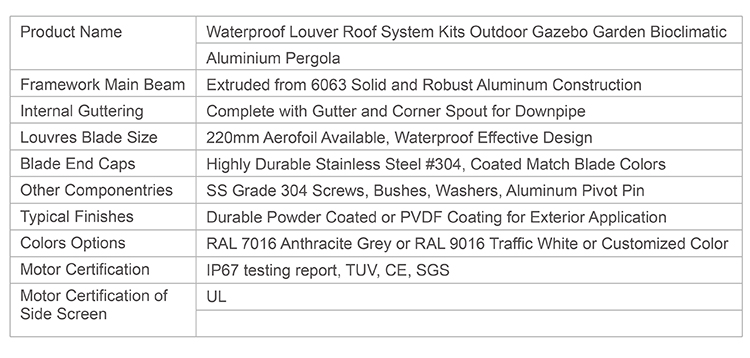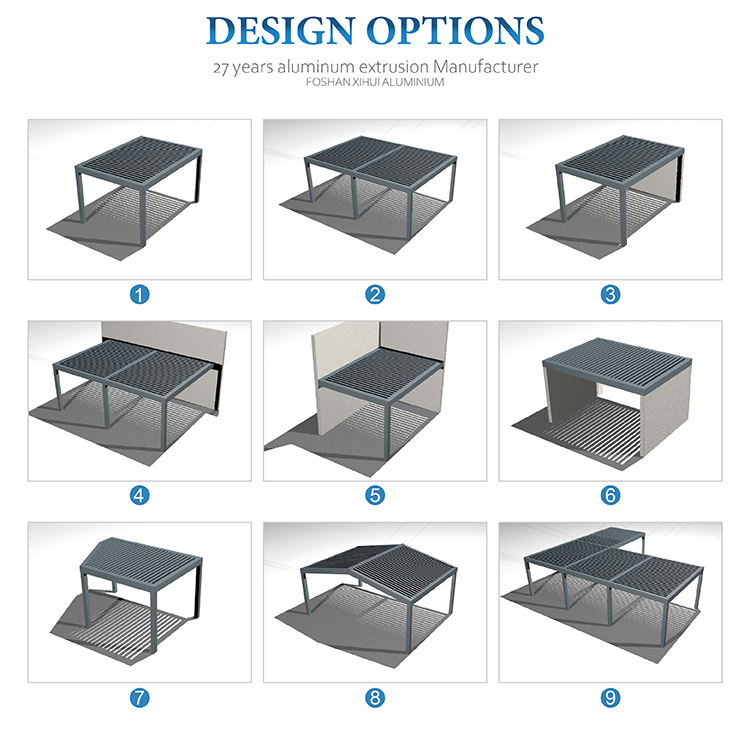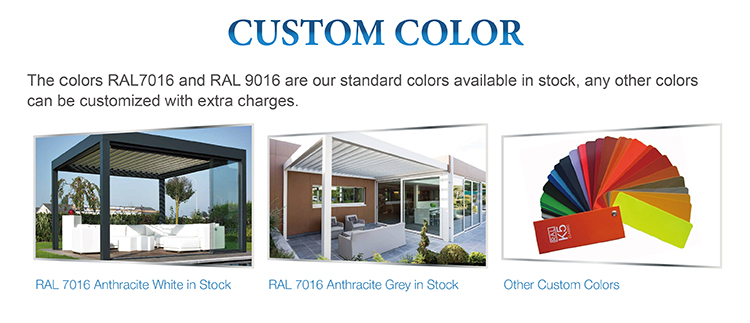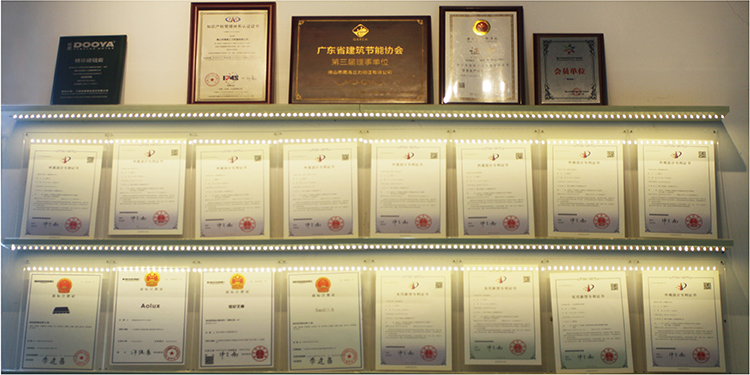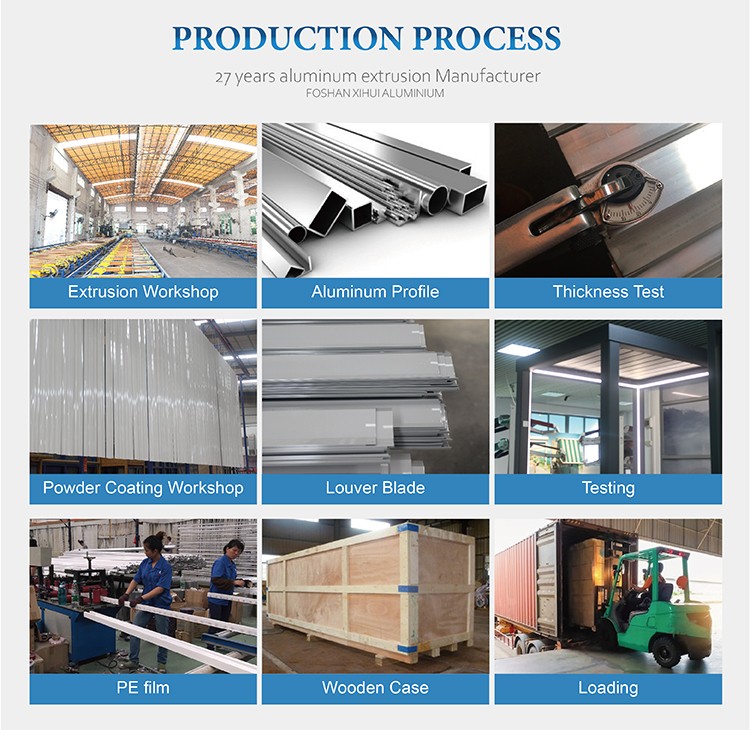 1. IS THIS PERGOLA EASY TO ASSEMBLE?
We have the assembly manual instruction specifically made according to your project site.It's a DIY product designed to be easily assembled.
2. HOW TO MAKE THE ORDER?
Kindly send us the sizes of the area and the pictures of the construction site if you can. We will make the design and proposal accordingly. After you confirm the design and the quote, the order will be taken care of by us, from production to shipping, even door-to-door delivery we can handle, if needed.
3. HOW WILL IT HOLD UP IN MY CLIMATE?
Our system has been specifically engineered to withstand hurricane-force winds,heavy snow loads, and everything in between. It's durable and can out-compete most of the competitors on the market today!
4. WHAT IS YOUR PRODUCT WARRANTY?
We offer a 7-10 years warranty on the structure with ordinary powder coated, along with a 2 years warranty on the electronics.
5. ARE THERE STANDARD AND CUSTOMIZED SIZES?
Yes, we have 3m x 3m, 3m x4m, and other standard sizes.And the design of the open roof system is very flexible, so it can be customized. We will assist in designing the length and direction of the louvers to best fit your area.
6. WHAT TYPES OF FEATURES CAN I ADD TO THE ROOF?
We also offer integrated LED lighting and an automatic rain sensor system that will automatically close the roof when it starts raining. If you have any further ideas we encourage you to share them with us.
Please feel free to give your inquiry in the form below. We will reply you in 24 hours.